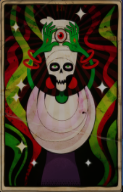 Description
Edit
The patron of loathed souls. She is said to be a primordial spirit and therefore incredibly powerful. After marrying Baron Samedi she had to deal with many of his troublesome affairs. Annoyed of this, she now thirsts for revenge.
Abilities
Edit
Ability
Brigitte's Spark (Passive):
Keep Brigitte happy and she will protect you with her fire.
Fire Area:
Cast a big explosion around the player.
Text.Skill.Firewave (Assumed name - Fire Wave):
(No official description available)
Based on testing it is a large blast of fire in a straight line that is quite wide dealing damage and pushing enemies back.