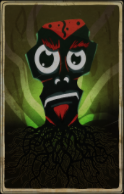 Description
Edit
The loa of healing and vegetation. He is known for his intolerance of injustice... and his love for women.
Abilities
Edit
Ability
Loko's Touch (Passive):
Health reduced.
Damage reduced.
Incoming heals potency reduced.
Your attacks curse your enemies. Cursed enemies heal anyone who strike them.
Rampage: You gain rampage being in combat without taking damage. The more you have of it, the more loot you get. At max rampage, better health orbs are dropped.
Frenzy:
Blesses the ground increasing your attack rate and reducing damage taken.
Voodoo Prayer:
Shoot a bomb that damages your enemies and heals you and your allies.