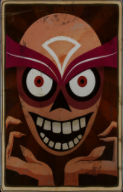 Description
Edit
This fellow of the outer realm enjoys blending in with mankind and baffling them. Master of mind control, he is always ready to enhance all the abilities of his loyal servants when needed.
Abilities
Edit
Ability
Ghede's Scream (Passive):
Placeholder. We need a passive for this dude.
Totem: Guardian:
Place a totem on the ground that shoots at enemies.
Totem: Protect:
Place a totem that will link to other totems and create a secure area.