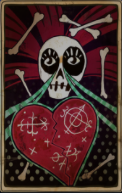 Description
Edit
The beautiful goddess of love and desire. Unfortunately love and death are always related. After she lost her husband in a horrible accident, she went insane, which greatly increased her power.
Abilities
Edit
Ability
Erzulie's Wrath (Passive):
Increase your rampage bar to increase the amount of tears you create with your spell.
Tear of Erzulie:
Drop tears that do lots of damage.
Damage increases based on regular damage.
Anger:
Drops a field that slows enemies.